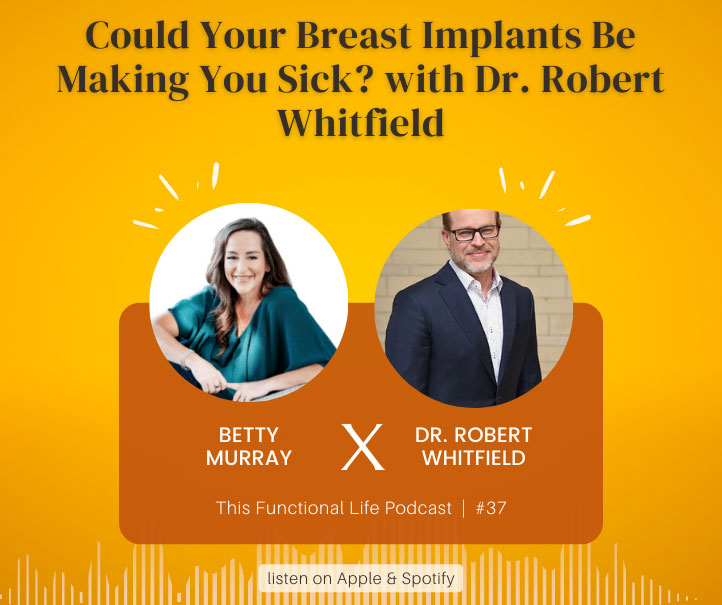 The FDA seems to gatekeep the idea that breast implant illness exists. But the fact is, it's more common than you might think!
Dr. Robert Whitfield is a natural plastic surgeon and one of the foremost experts on breast cancer illness. Renowned for his expertise and research, he comes to the show to share the truth about breast implant illness.
Betty and Dr. Whitfield discuss breast implant illness, what it is, and the symptoms to look out for. You'll also hear Dr. Whitfield's unique take on breast reconstruction and how might be able to avoid implants in the first place.
He'll take you through his Holistic Accelerated Recovery Program (HARP), explaining how he sets patients up for success pre-surgery. Through using his holistic methods, you can recover more quickly.
If you have breast implants or are thinking about getting them, this episode will help you have the best possible outcome!
Key Topics/Takeaways:
How Dr. Whitfield got into medicine and plastic surgery.
Dr. Whitfield tells personal client success stories.
Functional genomics and breast implant illness.
Symptoms of breast implant illness.
Difference between textured and nontextured breast implants.
Dr. Whitfield you through his holistic recovery program.
Why the pre-surgery planning process is so important.
Alternatives to breast implants.
Where to Find the Guest:
DrRobertWhitfield.com
BreastImplantIllnessExpert.com
Listen to Dr. Whitfield's Podcast
@drrobertwhitfield
Memorable Quotes
"You try to treat everybody like they're family and take care of them the best you can." (11:47, Dr. Whitfield)
"I think it's frightening that we don't know more about this and that if you go out and look at the FDA, they're sort of sidestepping the idea that breast implant illness really exists and that it's just this very rare, rare thing." (20:19, Betty)
"Traditionally surgeons try to get everything set up so they do the safest possible operations, but really when we're talking about people that have lots of inflammation, you really wanna reduce the inflammation prior to surgery in as many ways possible as you can." (36:48, Dr. Whitfield)
"Food is your fuel for recovery. If you can't eat, you can't recover." (38:41, Dr. Whitfield)
"You miss a hundred percent of the questions you don't ask." (40:20, Dr. Whitfield)

Betty Murray Podcast | (972) 930-0260