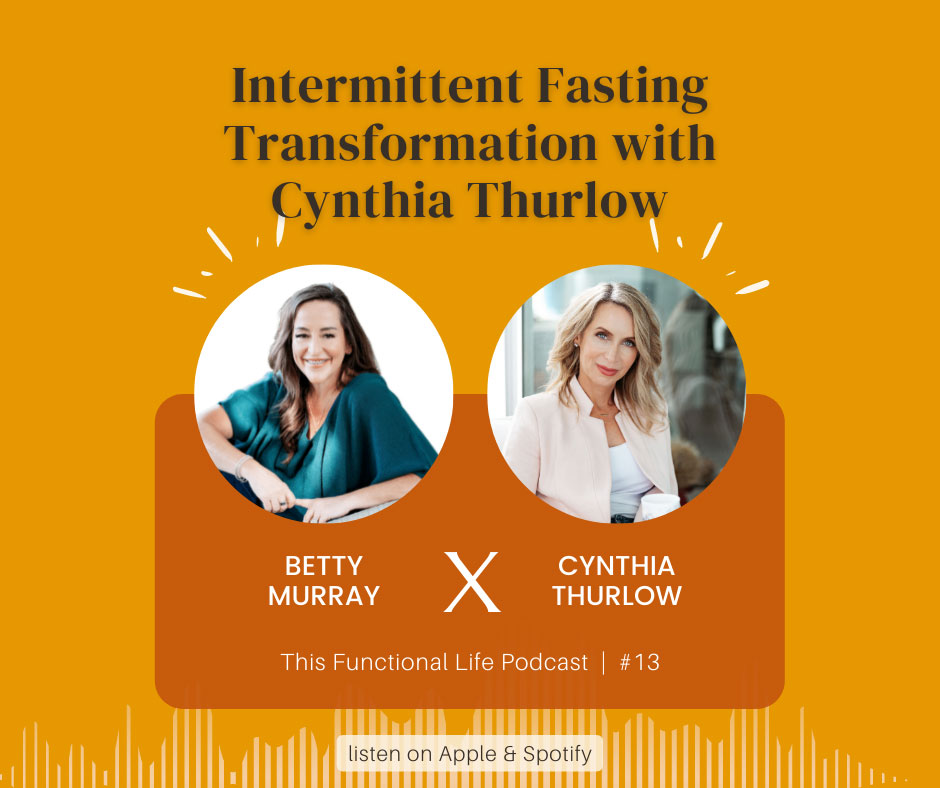 Intermittent Fasting Transformation with Cynthia Thurlow
The internationally recognized intermittent fasting expert discusses her methods for successful fasting, and the ways in which it can improve our relationship with food.
Description:
Cynthia Thurlow, NP is the CEO and founder of Everyday Wellness Project and an international speaker. Her second TED talk, "Intermittent Fasting: Transformational Technique" has been viewed over 12 million times, and she has had 20 years of experience in all aspects of functional medicine including cardiology and emergency medicine. She is also a globally recognized expert in intermittent fasting and nutritional health, and has been featured on ABC, Fox 5, KLTA, CW Medium, Entrepreneur, and the Megyn Kelly Show.
Thurlow joins Certified Nutritionist Betty Murray to speak about her own experiences with intermittent fasting in herself and others and the most common mistakes that beginners make when fasting for the first time. She also breaks down the most common misconceptions surrounding fasting and its relationship to the way our bodies process food.
Takeaways:
[4:24] Differences in fasting methods between men and women.
[7:24] Why fasting during the luteal phase requires extra effort and may not be for everyone.
[9:26] Thurlow explains the importance of protein and carbohydrate intake at certain times in the menstrual cycle.
[11:28] Clearing up misconceptions about simply not eating vs. fasting.
[14:56] Ghrelin's role in fasting and helping to suppress hunger.
[18:38] Discussing Metabolic Syndrome and why most Americans are not metabolically flexible.
[21:41] Common errors made by beginners to intermittent fasting.
[26:49] How decreasing the intensity of exercise as you age can actually help your body.
[32:04] Thurlow discusses the 45-Day program in her book and how it can empower you to take back control of your life through intermittent fasting.
Mentioned in This Episode:
Twitter:
"Women and men can both fast, we just have to lean into the physiology piece to do it successfully."
"It is not starvation, it is not counting calories, it is really about honoring the way our bodies are designed to thrive."
"We have an increasingly metabolically unhealthy population, and that is directly with foods we choose to eat and the food frequency with which we choose to consume them."
"We really have to understand our relationship with food in order to fast successfully."
"You want to be consuming high quality food – food in its most natural state if at all possible."

Betty Murray Podcast | (972) 930-0260