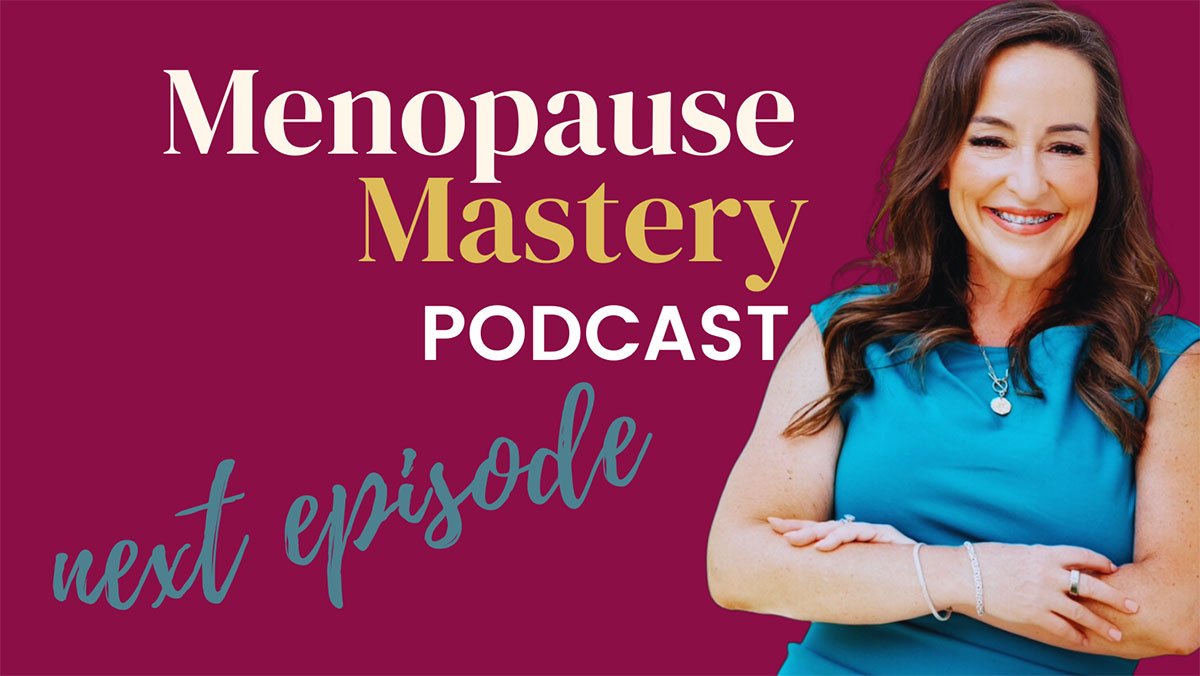 Is Hormone Replacement Safe for Menopause? with Kyrin Dunston, MD
Today on Menopause Mastery, Dr. Kyrin Dunston calls out the irony of modern medicine. She is fellowship trained in metabolic, anti-aging, and functional medicine. As a board-certified OBGYN, Dr. Kyrin was trained to be a leading expert on hormonal health, yet struggled and suffered through hormonal imbalance, obesity, and metabolic issues. The feeling of shame and hopelessness was profound until she discovered functional medicine. This discovery shifted her understanding of the female body. With this program, she lost a staggering one-hundred pounds and achieved the best health of her life.
She discusses the false sense of achievement championed in conventional medicine when doctors manage to conquer a single symptom. Now she takes a holistic approach to balancing hormones and is a pioneer for female hormone justice. Menopause is normal, but Dr. Kyrin speaks to the reality that without preparation, menopause can wreak havoc on your physical and mental health.
Your hormones are the communication center of your body. Without hormonal balance, the body falls into metabolic mayhem. Ovaries are designed for obsolescence, so Dr. Kyrin encourages you to seize the window of opportunity to increase your vitality later in life. Hormonal poverty from menopause has been linked to Alzheimer's and can potentially decrease your life expectancy. Dr. Kyrin helps you piece together your unique protocol for hormonal balance. Menopause is a fact of life, but suffering from hormonal poverty should be an educated choice.
Join us for a crash course in the female body, and learn what you can do to protect yourself
today!
Key Takeaways
[3:20] The Illusion of Expertise with Dr. Kyrin
[7:00] Claiming Victory Without Success
[11:00] Following the Functional Bread Crumbs
[13:00] The Communication Center of The Body
[17:00] Programmed Obsolescence of Your Ovaries
[20:00] Preparing for Midlife Metabolic Mayhem
[24:00] The Consequences of Hormonal Poverty
[28:00] Gaslighting in Women's Medicine Is Real
[30:30] Blindspots in Conventional Hormonal Testing
[33:00] There are No Fast, Quick, and Easy Solutions
[37:00] Adrenal Function Will Make or Break You
Memorable Quotes:
"No one ever really got better. I would give them the birth control pill, ok that might clear up their period, and I claimed success. Symptoms gone equaled success, that's how medicine views symptoms. It's a problem to be conquered, and when you get rid of the symptom, you claim victory, and you go on about your life." [8:18] -Dr.Dunston
"You need to realize it is the very foundation of how your body functions as a woman, and that you are biologically, physiologically different from men, and that you need special care, nurturing, and attention to function optimally, to have your communication system optimized." [18:15] -Dr.Dunston
Resources
The Hormone Prescription Podcast
Diet Deceptive Dozen Report from Dr. Kyrin
MidLifeMetabolismInstitute.com
HerHormoneClub.com
Instagram

Menopause Mastery Podcast | (972) 930-0260